Reliance Jio 4G services will go paid from April 1, 2017. If you are one of those who don't want to switch to the Jio Prime membership plan, then these are the tariffs you should be aware of. Also, understand that there is just one prepaid plan that is cheaper than the Rs 303 monthly price announced for Prime users. More importantly that plan clearly does not offer as much data as the Prime plan.
Here is why:
The Rs 149 plan lasts 28 days and comes with 1GB of data for the entire month out of which only 300MB is 4G data and the rest of Wi-Fi. In contrast, the Jio Prime offer should give you 1GB of data every day.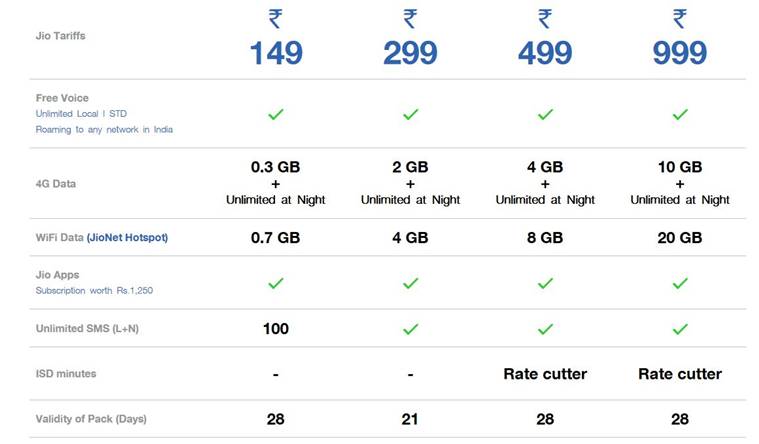 Jio 4G Daily prepaid plan
The cheapest Jio 4G daily prepaid plan cost Rs 19 per day and comes with unlimited calls, but just 100MB of 4G data. Four weeks of this will cost you Rs 532 on average, assuming you recharge everyday. So it makes sense to switch to a four-week plan, the cheapest of which — after the Rs 149 plan — costs Rs 499 with 4GB of 4G data and double that on WiFi.
This also gives unlimited data at night, like in the other plans, but this unlimited data starts from 2 am and goes on to 5 am in the morning. The prepaid plan with 10GB of 4G data costs Rs 999 per month.
Also Read:
Reliance Jio Prime pre-paid & post-paid plans released: From Rs 19 to Rs 9999, here's the tariff list
Jio 4G postpaid plan
In postpaid the cheapest plan is Rs 1499 and that comes with 20GB of 4G data, still less than what you would get with the Jio Prime offer.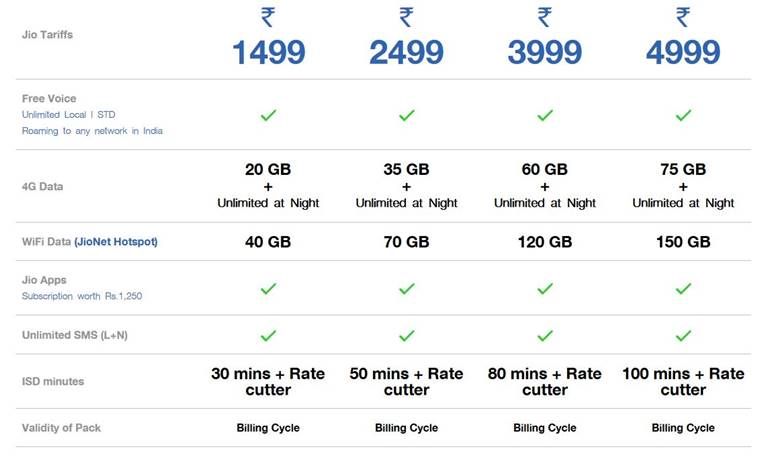 So in every way, the Jio Prime offer is the most lucrative that a customer can get at the moment. And this offer seems to be a well thought out strategy to get new users to sign up before March 31, 2017 when the Jio Prime offer expires. After that, users will have no option but to switch to the costlier plans.
The real purpose of the Jio Prime plan seems to be to ensure that lots of existing users are actually tied in with a monthly plan. With what they have experienced with Jio so far, a lot of users might have been planning to use the service on a need basis, with a recharge only when they have to.
Also, Jio seems to have realised that many customers are not using the service as their prime number, but a secondary one primarily for data. The Jio Prime offer might bait them to make the switch.
This is what the Jio Prime offer gives you
Rs 99 is the registration fee to be paid to enjoy the "Jio Prime Offer"
Rs 303 monthly charges for unlimited voice & other services with 1GB high-speed data & post the data usage speed will reduce to 128kbps (daily). You will be able to use unlimited data between 2 am to 5 am.
You can enjoy all Jio premium apps free for one year.
If you subscribe to Jio Prime membership program before March 31, You will be able to continue to enjoy 1 GB data daily, free voice calls and unlimited SMS until March 2018.
News Source: Indianexpress
Image Source: indianexpress.com